Chattahoochee Valley Libraries is an engaging, evolving public institution, serving Columbus and surrounding communities at seven locations. (Plus bookmobiles and kiosks.) Director Alan Harkness will talk to us about the library system's "past, present and future." Even if you're a library regular, we think you'll learn something this Sunday. Join us! (Visitors are always welcome at our progressive Fellowship.)
Services begin at 11 a.m., but join us early for coffee and conversation. Talks, like Alan's, are the centerpiece of our services, which also include music, readings, meditation and opportunities (always optional) to share your thoughts. And we're done by noon.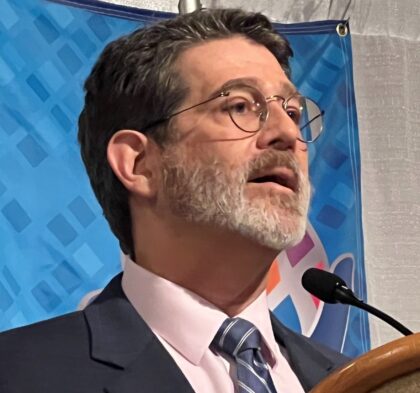 Georgia native Alan Harkness has worked in Georgia's public libraries for 39 years, in eight different counties. He's been director of the Chattahoochee Valley Libraries since 2013. Alan is a member of The Rotary Club Of Columbus, he's been a Board Member of Feeding the Valley Food Bank and he's active in his sons' Boy Scout Troop.
Alan earned a bachelor's degree from Georgia State University, and a masters in library science from Florida State. He is married to Amy, a medical librarian at Piedmont Hospital and Gwinnett Medical. They have four children, ages 31, 20, 16, and 13. The Harkness family lives in Midtown Columbus.