Newcomers
Here are some handy overview links:
Children Welcome
Children of all ages are welcome in Grace Fellowship Hall with their parents.
Our campus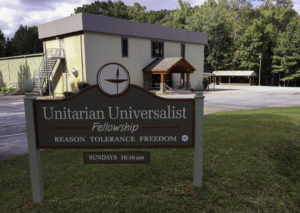 We're located at 8827 Heiferhorn Way in north Columbus, Ga. It includes Grace Fellowship Hall (pictured here), a small classroom building called the Meeting House, a picnic pavilion, a meditation garden, and a path through the woods around our property.
Sunday services begin at 11:00 a.m. and end by noon.